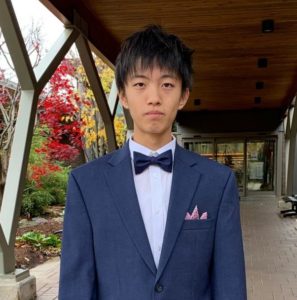 Age: 17 Instruments: Piano (6 yrs), Marimba (1 yr), Bass, Gyil, African Drums (6 yrs), and others
As the president of Ensemble Hanabi, I am aspiring to direct the organization in a way that benefits the greater community and the members at the same time, through the demonstration of musical passion and talent.
Despite my eventual goal to dive into STEM field and become an engineer, I am planning to continue following my musical passion. Music has been a significant piece of my life, since I started with the African percussion group, Niji-Iro Percussions, and piano performance in elementary school. As I delved into the world of music of a multitude of genre – classical, jazz, pop, vokaloid, traditional – I was simply inspired by the meticulous work of these artists, and I was appreciative that I live today with so much music around. I want to continue sharing this beauty of music and keep making a difference in the community through music.

Touma Yoneyama
Vice President
Age: 17 Instruments: Cello (7 yrs)
Since childhood, I've had many volunteering opportunities – tutoring, event moderating, event coordinating, etc. – and the joy and experience I get from these are tremendous, which is what motivated me to become the Vice President here at Enemble HANABI.
I also have extensive leadership experience, qualifying myself as the Vice President. For example, I was the Student Council President of the Japanese School of Detroit and a founder of Ringo Connect, a tutoring NPO.
My job at Ensemble HANABI is management: keeping myself busy with tedious tasks that the performers shouldn't linger over.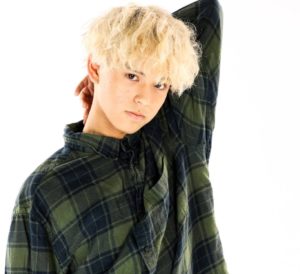 Website Administrator
Merch/Poster Designer
Age: 15 Music Experience: Hip Hop Dance (10 yrs), Gymnastics (5 yrs), Piano (3 yr), Guitar(1 yrs), Marimba (2 yrs)
As the newest member of Hanabi, I would like to try my best to improve my self in order to keep up with the other members of Hanabi. As of right now I am in charge of the Website design and management of Hanabi. I am currently studying coding to make the website function better and look more polished so it is more accessible for many people. I also make the Posters/Flyers for Hanabi Concerts and designed the member T-shirts.
Despite the following, I would like to mainly focus as a performer and entertain people with our music and Performances.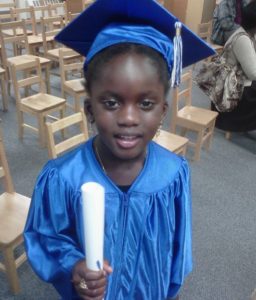 Clementine Kanfom
Sound Director
Age: 15 Instruments: Piano (7 yrs), Marimba, African Drums (8 yrs), Cello (3 yrs)
I initially joined hanabi to expand my knowledge on how to play marimba, but now I love the thrill of performing at different areas, and expressing myself in front of an audience.
I do plan on going to university, so I can study to become an Orthopedic Surgeon.
Cloud James
Secretary
Accountant
Age: 15 Instruments: Piano (8 yrs), Trumpet(3 yrs), and Marimba(2 yrs)
With Hanabi I want to be able to bring happiness to people through music.
In the future I am attending college to work in the medical field or musical field.
Haruna Delphia
Accountant Assitant
Age: 14 Instruments: Piano (6-7 yrs), marimba (3-4 yrs), percussion (1 yr), african drums(6 yrs)
I'd like to achieve a successful NPO that hosts events, performs often in varying festivals and places and teaches younger kids.
For the future, I am achieving to either be an architect or a psychologist.
Age: 13 Instruments: Piano (8 yrs), Marimba (3 yrs), Snare Drum (1 yr)
I am in Hanabi because I want to achieve music skill, experience and teamwork.
In the future I might want to take a career in TMU Music or possibly be an engineer.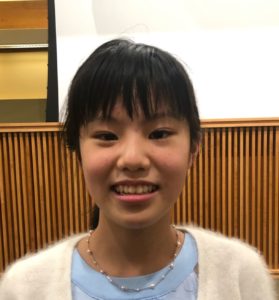 Age: 14 Instruments: Piano (10 yrs), Marimba (2 yrs), Trombone (1 yr)
I want to challenge myself to play different genres of music and get better at performing in front of people in solo and ensemble.
In the future I want to be an elementary school teacher!